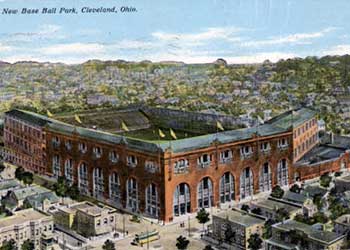 Postcard of League Park, ca. 1911.
—By Vern Morrison, Digital Production / Electronic Course Reserve Coordinator, Michael Schwartz Library
Built in 1891, League Park, located at the intersection of E. 66th St. and Lexington Avenue, served as the home to Cleveland's first major league baseball team, the Cleveland Spiders. The National League franchise folded in 1899 following a dismal 20-134 season. In 1900, the minor league Cleveland Lake Shores began play at League Park. In 1901 the team, renamed the Cleveland Bluebirds, was one of the charter franchises of the American League. After several more name changes, the franchise eventually became known as the Cleveland Indians.
From the Plain Dealer, 9/22/46.
The Indians played all their home games at League Park until the opening of Cleveland Municipal Stadium in 1932. From 1932 until 1946 the Indians played at both stadiums. As League Park never had outdoor lighting on the field, all games played there were of necessity scheduled during the daytime.
The Indians played their final game at League Park on Saturday, September 21, 1946, losing 5-3 to the Detroit Tigers in 11 innings. Dizzy Trout, the starting pitcher for the Tigers, pitched all 11 innings for the win.

Read more about League Park in Cleveland Memory.