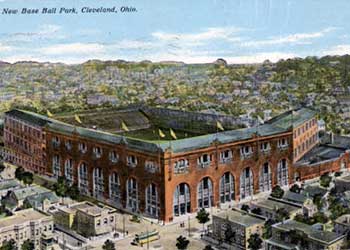 Postcard of League Park, ca. 1911.
by Vern Morrison, Digital Production Assistant, Michael Schwartz Library
Mostly demolished and long neglected, historic League Park, at E. 66th St. and Lexington Avenue, has been refurbished. Built in 1891, the park was the home of the Cleveland Indians until the 1940s, and was also used by the Cleveland Rams football team and by teams from baseball's Negro Leagues.
In recent years, the city of Cleveland has been restoring the park, which now hosts an artificial turf baseball field which will be used by Cleveland high school teams. On Saturday, August 23, 2014, the city had a ceremony to celebrate the reopening of the park.
For Further Reading: