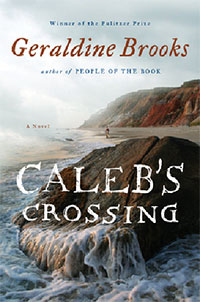 Michael Schwartz Library
1860 East 22nd Street
Rhodes Tower, Room 503
Cleveland State University
Free and open to the general public
Refreshments
Join the Friends to discuss Caleb's Crossing by Pulitzer Prize-winning author Geraldine Brooks, who takes a remarkable shard of history and brings it to vivid life. In 1665, a young man from Martha's Vineyard became the first Native American to graduate from Harvard College.

About the book
The narrator of Caleb's Crossing is Bethia Mayfield, growing up in the tiny settlement of Great Harbor amid a small band of pioneers and Puritans. Restless and curious, she yearns after an education that is closed to her. As often as she can, she slips away to explore the island's glistening beaches and observe its native Wampanoag inhabitants. At twelve, she encounters Caleb, the young son of a chieftain, and the tow forge a tentative friendship that draws each in the world of the other. Bethia's minister father tries to convert the Wampanoag, awakening the wrath of the tribe's shaman, against whose magic he must test his own beliefs. One of his projects becomes the education of Caleb, and a year later, Caleb is in Cambridge, studying Latin and Greek among the colonial elite, There, Bethia finds herself reluctantly indentured as a housekeeper and can closely observe Caleb's crossing of cultures. In Caleb's Crossing, Brooks has created a luminous tale of love and faith, magic and adventure (Penguin Books). A New York Times bestseller.
All are welcome!
For more information, call 216-875-9734.