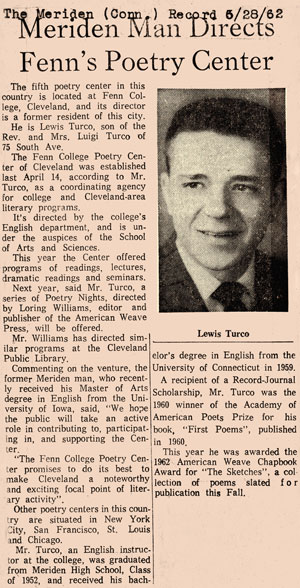 From the
Poetry Center Scrapbook
The Poetry Center at Cleveland State University will celebrate its 50th birthday on April 14th this year. Founded back in 1962 by poet and Fenn College English Instructor Lewis Turco, the Poetry Center at Fenn College, as it was known back then, was the 5th of its kind in the nation and would go on to become a lasting legacy in the Cleveland community.
Lewis Turco, who served as the director for the first two years, helped the Center achieve great success and attracted such literary luminaries as William Golding, author of Lord of the Flies, Kenyon College critic John Crowe Ransom, and Paris Review poetry editor X. J. Kennedy.
Read more about Lewis Turco and the Center's origins.
The Lewis Turco Collection in Cleveland Memory provides many first-hand resources that document the early years of the Poetry Center including:
Poetry Center Scrapbook: Details the founding of the center and consists of various programs, newspaper clippings, and correspondence written by Turco.
The Lewis Turco Audio Collection: A series of audio recordings donated to Cleveland State University, includes recordings by prominent poets as well as recordings made at the Fenn College Poetry Center during its first years. Selected tapes from the collection are being digitized by library staff and will be made available online.
Additional Links: