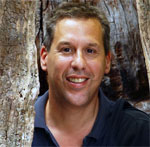 The Friends of the CSU Michael Schwartz Library present the
23rd Annual Scholars & Artists Reception
, celebrating scholarly and creative achievements of CSU faculty, staff, and emeriti on
Thursday, October 27, 2011
from
3:00 to 4:30 p.m on the first floor of the Library.
The featured speaker is
Mark Tebeau
, Professor of History at CSU, Presenting "Mobile History: Teaching & Learning in the Age of Mobile Computing."
Professor Tebeau will explore how digital innovation, particularly the paradigmatic shift toward mobile computing, is remaking society. The breakneck pace and enormous scale of the technological transformation pose great challenges but also offer intriguing new possibilities for educators at both universities and K-12 settings. Using the Center for Public History + Digital Humanities" innovative mobile application Cleveland Historical, and its larger initiative Mobile Historical, as case studies, Professor Tebeau will explore how technological innovation can transfrom urban landscapes, museums, and schools into living laboratories for research, teaching, and learning.
Bring your Smartphone, download
Cleveland Historical
, and start tweeting your thoughts and ideas about the future of mobile technologies, using the hashtag #csu-mobile, as a way to begin generating ideas and discussions ahead of professor Tebeaus's lecture.
A reception will follow the program.
The Friends of the Library will exhibit materials such as books, scholarly papers, art, music, web sites, or similar works that University faculty, staff, and emeriti have published in the past year.
The event is free and open to the public, but call 216-875-9734 or email
reservations
by October 24 to reserve a seat.
Faculty , staff, and emeriti:
Submit your scholarly works
by Friday, October 21!