A Reading Circle in honor of Dr. William Shorrock on April 15--presenting Suite Française and Lest Innocent Blood be Shed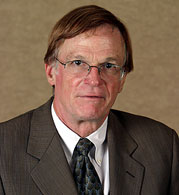 Prof. William Shorrock
The Cleveland State University Friends of the Library and the History Department will host a Reading Circle in honor of the Dr. William Shorrock, who passed away on November 17, 2007 following a brief illness. The program will be held on
Tuesday, April 15, from 12:00 p.m. to 1:30 p.m. in the Library, room 503.
Refreshments will be served.
Two books that Dr. Shorrock valued have been chosen for the discussion:
Suite Française
a national bestselling fictional novel about the German occupation of France during WWII by Irène Némirovsky and
Lest Innocent Blood be Shed
, the story of the village of Le Chambon and how goodness happened there by Philip Hallie.
David Goldberg
, Professor of History, and
Michael Wells
, Friends of the Library President and Associate Professor Urban Studies, and will present
Suite Française
and
Lest Innocent Blood be Shed
, respectively. Both books are available for check out in the Library and are also on sale at a discount at the
CSU Bookstore
.
The event is free and open to the public. The Library is located in Rhodes Tower, 1860 East 22nd Street, Cleveland. Parking is available in parking lot REC located on Chester Avenue, between East 24th and East 30th Streets.
A professor emeritus of history, Dr. Shorrock continued to teach part time after retiring from the University in 2005. During his 36 year tenure with CSU, he chaired the history department, and served as special assistant to the interim vice president for academic and student affairs, associate provost, and vice provost for academic affairs and faculty relations. Dr. Shorrock was an active member of the Retired Faculty Association and was the president of Cleveland State's
Friends of the Library
.
Dr. Shorrock's love of French literature, both historical and fictional, are reflected in
Suite Française
and
Lest Innocent Blood be Shed
.
Suite Française
is an extraordinary novel of life under Nazi occupation - recently discovered and published 64 years after the author's death in Auschwitz. Holocaust victim Irène Némirovsky accomplished the daunting task of translating the unspeakable horror and chaos of war -- at the precise moment it was exploding all around her -- into luminous, coherent, and masterfully crafted fiction. Conceived by the author as two parts in a series, the stories of
Suite Française
were preserved by Némirovsky's daughters after the author was deported to Auschwitz in 1942. A literary treasure of enormous magnitude, these are powerful tales of grace and disgrace in the midst of crisis.
Lest Innocent Blood be Shed
is a story of courage and faith. During the most terrible years of World War II, when inhumanity and political insanity held most of the world in their grip and the Nazi domination of Europe seemed irrevocable and unchallenged, a miraculous event took place in a small Protestant town in southern France called Le Chambon. There, quietly, peacefully, and in full view of the Vichy government and a nearby division of the Nazi SS, Le Chambon's villagers and their clergy organized to save thousands of Jewish children and adults from certain death.